I have now started the race to finish Birthday and Christmas presents. I feel like I am knitting like
this
. Here is part of the new stash that will be presents very soon.
Here is the things that I have finished...
cabled socks
and arm warmers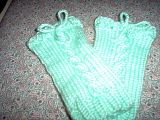 This is one of the things that I am working on right now
Check out the creepy thing laying across the couch...it seems that we have so many of them now,we just drape them across things.
I'm a bit further along than this. I knitted while at a appointment this afternoon. I really hope that I don't run out of the yarn. I just hate to have to buy another ball of GREY yarn to finish the last three inches.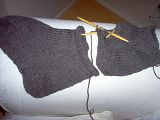 Well it might be after the weekend when I post again. It's my Birthday on Saturday and I really want to go to
The Fair
this weekend. I will post pictures if I can remember to take any.....
Oh and I figured out how to post little clickable pictures....I swear I'm retarded sometimes....